24 Hour "No Regrets" Change Policy
We all make mistakes. Sometimes we click that submit button before we realize that we selected the wrong item. If you need to change something or make an adjustment to your account, we totally get it. Here's our 24-Hour "No Regrets" Change Policy:
Within the first 24 hours of signing up, if you realize there's a typo in your domain, or perhaps you want something different, or maybe you decide this isn't for you, just let us know. During this period, we can help make changes to ensure you get what you need. New domain registrations can be changed or completely cancelled, but only within the first 24 hours of registration. 
(Note: Domain Transfers that have already been approved by the losing registrar are not eligible for refund or change.)
14-Day Refund Policy
Sometimes, a purchase simply isn't what we were looking for. If you are unhappy with your Shared Hosting Account for any reason within the first 2 weeks (14 days) of signup, we will issue you a full refund of hosting costs, minus the cost of any domain registrations or transfers.
Other Products and Services
(Scenarios where refunds or changes may come into question)
Refunds are not issued for purchased products or services that are unused.

Service-based costs (Migrations, Professional Services) are only refunded when the request is made within 14 days, and only if the service has not been executed.

Upgrading shared hosting plans and services are prorated based on your billing cycle, however downgrading a plan/service is not eligible for a refund for unused time.

Annual contracts for Managed Hosting and Domain of One's Own are not eligible for refunds.

Renewals of all products and services are non-refundable.

One refund or account change, per customer, per calendar year.

All other sales are final. 
Cancellations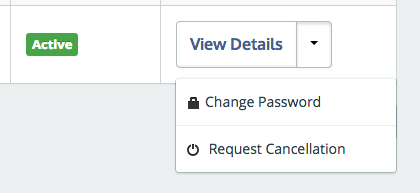 We're sad to see our customers leave, but when that occasionally happens, we offer a variety of export options.  All customers own their data, and can move it out at any time. You can send us an email at [email protected] or put in a ticket within the client area if you need assistance.
Cancelling your Account
To cancel your account, login to the Client Area and go to your Accounts. By clicking the dropdown and selecting Request Cancellation you can initiate a cancellation request. You will receive an email confirming your cancellation request has been received immediately after submitting the form. If you are within the initial 14-day window of products eligible for a refund, or we have further questions, we will be in touch. You can also reach out to us directly at [email protected].